Vanguard's research on market volatility evidences that spreading your money around the globe in a globally diversified portfolio – a range of businesses, large and small – is a more effective way of building wealth than keeping it exclusively close to home.
$1.56 trillion is an eye watering sum of money, by anyone's estimation. It's about the same as Australia's whole economy – it's bigger than Spain's and a little under Brazil's. It is also the sum of money paid out, as income through dividends to shareholders, by the 1,200 largest companies around the world. Firms like Royal Dutch Shell, Verizon, and Procter & Gamble.
The UK's contribution to this sum? Just 6%.
Buy the haystack, not the needle
Clearly there are plenty of interesting and valuable investment opportunities in the UK. Firms like JD Sports, playing the athleisure trend, or the London Stock Exchange Group, benefitting from international companies setting up in the UK, have done remarkably well.
But these are outliers.
While some UK companies have almost disappeared – Mothercare and Carpetright anyone? – others have simply ticked over.
It is far better to adopt a globally diversified portfolio, and benefit from an average growth rate that tends to keep its nose well above inflation and protect you from dips in the markets close to home.
When Denmark beats America
It is practically impossible to predict which countries are going to benefit your returns.
There are good examples everywhere. But let's just take one: the relative performance of Denmark (40th biggest economy) and the USA (1st).
The chart below shows the randomness of this relationship. Over about 20 years, sometimes Denmark beats the USA, sometimes vice versa.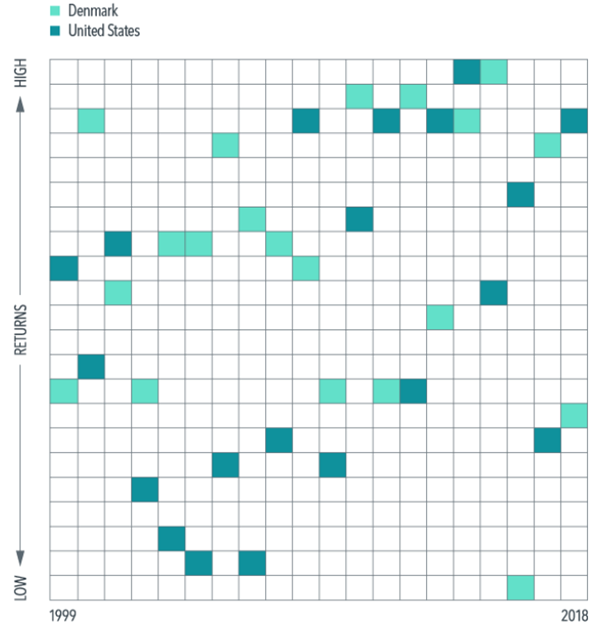 This randomness shows the folly of trying to pick winners. In other words, if you want to build your wealth, you have to buy global because you can't predict local.
Over the last 20 years or so, a pot of money invested in a big basket of global companies will have grown your money by almost exactly 300%. In other words, every £1 grows into £4.
The UK grew too, but by just 205% – or £1 growing to £3.05. That's good … but not as good.
Total exposure, total returns
If you accept that putting money into international companies via a globally diversified portfolio (which of course includes the UK) is a sensible way to proceed, you can tilt the odds in your favour in a few ways.
First, you put your money in a basket containing the world's leading companies. They're the Royal Dutch Shells, Verizon, Procter & Gamble, and others I mentioned above.
Then you put some extra in three areas: smaller companies (because they tend to grow faster), emerging markets (because they tend to grow faster) and companies whose share price rather understates the value of the company (because … well you probably get the message).
Clearly, shares of companies can go down as well as up. The way to balance out some of that oscillation is with a batch of bonds.
These are, essentially, IOUs to governments and companies – who use the borrowing to fund things like social services or expanding into new markets, respectively. You get an unspectacular but decent level of return which takes the edge off the ups and downs of share prices.
So, whether you've always invested locally, or haven't had good reason to spread your money overseas, the evidence suggests there are much healthier returns to be made there, than here.
---
This document is marketing material for a retail audience and does not constitute advice or recommendations. Past performance is not a guide to future performance and may not be repeated. The value of investments and the income from them may go down as well as up and investors may not get back the amount originally invested.