"Poor people, historical minorities, are having money and services diverted from them for these globalist, leftist ideas."
So said South Carolina state treasurer Curtis Loftis, in the Financial Times[i], as he vowed to pull $200m of investments from the giant money manager BlackRock.
The globalist, leftist ideas that provoked such action? Sustainable investing.
The debate came hard on the heels of an Extinction Rebellion protest outside another prominent investment firm, Vanguard, for allegedly doing too little to avert the climate crisis.
One person's medicine, another's poison
One company criticised for doing too much – another for doing too little.
Such episodes appear with regularity on our screens and in our newspapers. And they signify two things.
The first is the way politics and politicisation can generate the sort of distracting noise that can lead to poor investment decisions.
The second is that there is a breadth of viewpoints on sustainable investing.
To quote BlackRock's definition, this is "the practice of analysing a company's environmental, social and governance (ESG) risks, as well as assessing its opportunities and progress, using ESG data and fundamental insights, to inform the allocation of capital."[ii]
This is something we'd be inclined to agree with – although we prefer plainer language, like directing money towards making the world a better place, achieving a more balanced use of natural resources, and building a fairer society.
But, we know not everyone will agree to the letter
That's because, in real life, we make trade-offs all the time. Some 88% of households recycle waste regularly[iii]. Yet Brits typically take tens of millions of flights a year[iv]. We balance out these trade-offs and live with them.
In the same way, we face trade-offs when it comes to investing wealth. For example, anyone wishing to see a tangible impact will need to think about having their money heavily concentrated in specific companies or sectors. This can lead to unhelpful financial risks and make it hard to redeem your wealth when you want to.
We tend to prefer a more balanced approach. It's possible to seek appropriate financial returns from investments in a long list of companies that are trying to do the right thing. Such a portfolio remains broadly diversified – in other words risk is spread across multiple areas – but they all have a tilt towards better environmental, social and governance credentials.
The impact from such a portfolio might be harder to quantify – but it's a trade-off that many are prepared to make.
A sustainability north star
One thing that is immutable in the sustainability debate is the United Nations' sustainable development goals initiative.
We don't know what North Carolina's state government view is – but, like many others, we think highly of the initiative. It's a collection of seventeen individual goals designed to promote sustainability: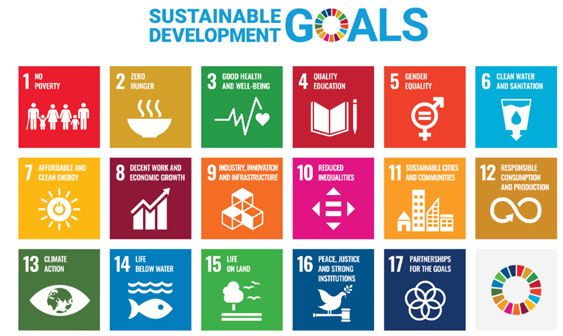 Each, some, and all of these can provide opportunities for financial returns, from companies aiming to do the right thing.
And allocating to those companies means avoiding others. For example, one of the sustainable funds we think highly of – managed by another giant, Dimensional Fund Advisors – has several exclusions, across environmental, social and governance issues.
In other words, invest here and the managers would divert your money away from the following (non-exhaustive) types of companies:
Meaningful revenues related to coal, tobacco, or palm oil,
Insensitive methods of rearing livestock,
Civilian firearms and
Child labour practices.
You might agree with all this – or you might have some quibbles.
The good news is that there's a range of evidence-based investment products to cater for your tastes and beliefs.
Sticking to the evidence
Today, people seem far more interested in focusing on directing their money towards environmental issues, than they do social or governance ones.
That's understandable. The climate science is stark and can also be boiled down to a simple number: net zero.
It's often harder to identify the optimal approach for investing through complex social issues, such as child labour, or the way companies are governed, such as appropriate gender representation on company boards. (Even if both can be stated in equally simple numbers.)
And then there's the noise. Party politics, social media alerts, headlines, short term data. Sometimes it can be hard to work out what to do.
As always, we suggest people try and ignore anything other than long-term evidence. And this evidence says you should put your money into the broad market – and not with a manager who will charge you extra to try and beat it, and then probably fail.
And if you do this by stripping out the companies most likely to have the poorest sustainability credentials, on climate, child labour, and gender, to name but three, you'll still be allocated to something like 9,000 stocks.
We think that's a step in the right direction.
[i] https://www.ft.com/content/41de28af-a487-473e-bc17-5e8cb71f4ced
[ii] https://www.blackrock.com/uk/solutions/sustainable-investing?siteEntryPassthrough=true&cid=ppc%3ABLK_UK%3ASustainable%3AGoogle%3Abrand%3Aen&gclid=CjwKCAiA_6yfBhBNEiwAkmXy5xAVEZvIUXuGA-tqPZ6jGVXHiSR56Gk4jsHGZ4SGuQYYRq1Sp1VQEBoC2kAQAvD_BwE&gclsrc=aw.ds
[iii] https://wrap.org.uk/sites/default/files/2021-09/WRAP-Recycling-Tracker-2021-report.pdf
[iv] https://www.airportwatch.org.uk/recent-airport-figures/
---
This document is marketing material for a retail audience and does not constitute advice or recommendations. Past performance is not a guide to future performance and may not be repeated. The value of investments and the income from them may go down as well as up and investors may not get back the amount originally invested.